Chris Page & Associates provides lubricant products and industry services across Alberta, British Columbia, Saskatchewan and the Northwest Territories. Our customers range from automotive shops, food processing plants, manufacturers, heavy-duty equipment operators, fleet owners, construction companies, and everything in between. If you work in the oil & gas industry then we work for you.
The lubrication specialists at Chris Page & Associates Ltd. understand your industry and can help solve your specific challenges with tailored lubrication solutions designed to improve equipment reliability and boost performance throughout your operation.
Transportation
If your industry is trucking, our industry is helping you get to your destination and back safely. From stop-and-go city driving to long-haul trucking operations, we have the proven lubrication products to fit your needs. With the Delo family of products you can count on superb quality, extended service protection and outstanding performance.

Heavy Duty Motor Oils
Diesel Exhaust Fluid (DEF)
Greases

Gear Lubricants
Coolants/Antifreezes
Transmission Fluids
Automotive
Protect your customer's engines. A car is one of the biggest investments they will ever make, so treat it right and use Havoline® Motor Oil that has been trusted by industry motorists for more than 100 years. Ask Chris Page & Associates Ltd. about our Havoline New Customer Welcome Kit or our Havoline Installed Program to earn cash back on every litre.

Passenger Car Motor Oils
Transmission Fluids
Coolants/Antifreezes
Gear Lubricants
Greases
Co-op Program
Industrial
A tough industry requires industrial-tough products. No matter how extreme the task, Chevron premium lubricants are specially formulated for numerous different industrial and off-highway engine types. Chevron lubricants are engineered to excel in the harshest conditions imaginable, delivering reliable engine protection and outstanding performance
Coolants/Antifreezes
Specialty Lubricants
Industrial Fluids
Heavy-Duty Motor Oils
Greases

Natural Gas Engine Oils
Transmission Fluids
Compressor Oils
Turbine Oils
Metalworking Fluids

Hydraulic Fluids
Gear Lubricants
Paper Machine Oils
Air Tool & Rock Drill Oils
Equipment Loan Programs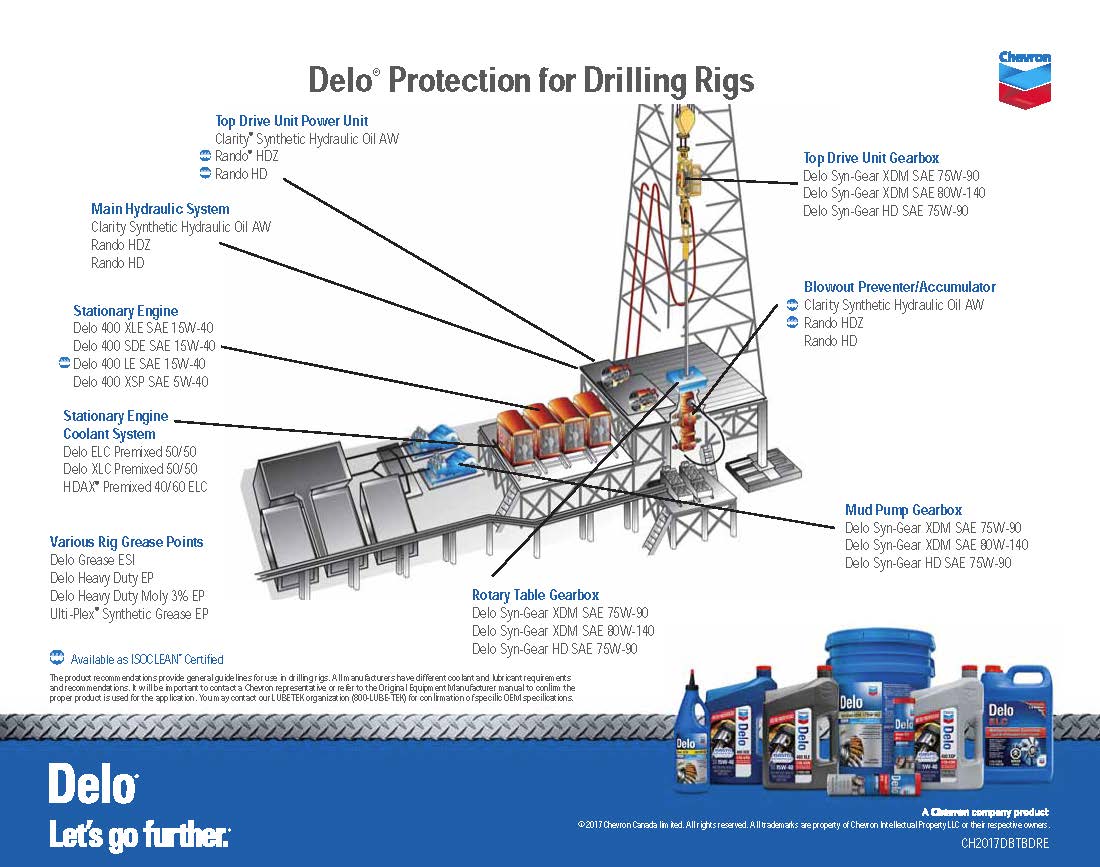 Agriculture
You're an expert in your field, and we're experts in ours. Our Chevron premium agricultural lubricants are formulated to protect against severe climates and field conditions, to help you gain more equipment reliability and durability. We help you optimize lubricant life, so you can keep equipment performing across each production cycle

Natural Gas Engine Oils
Diesel Exhaust Fluid (DEF)
Greases
Coolants
Transmission Fluids

Circulating Oils
Gear Oils
Hydraulic Oils (THF)
Industrial Greases
Coolants
Construction
We keep up with your industry so you can build more productivity on your worksite. Your equipment is built to take abuse, and Chevron construction lubricants are engineered to do the same. Chevron products are formulated to help boost reliability across your fleet, so you can work longer and faster and keep your critical project timelines on track.
Circulating Oils
Gear Lubricants
Hydraulic Oils
Specialty Oils

Heavy Duty Engine Oils
Antifreezes/Coolants
Transmission Fluids
Greases
Mining
When your industry is as merciless as this and assaults on your equipment are constant, fight back with Chevron premium industrial lubricants. They'll help protect equipment throughout your operation, from the autonomous vehicles, conveyors and elevators deep underground to the processing facility.

Circulating Oils
Gear Lubricants
Hydraulic Oils
Specialty Oils

Heavy Duty Engine Oils
Antifreezes/Coolants
Transmission Fluids
Greases
Great service friendly staff. Thanks again
Looking for Quality Chevron Lubricants Today?
Give Kolin a call now or fill out a quote request.